Welcome lovely readers and writers. You've reached my author website – home of magical gemstones, wise condors, jewel-eyed Andaleans . . . and a few blog posts on the craft of writing.
See the latest on my debut novel, The Stone Seer, and follow my blog for help on becoming a focused writer.
The Stone Seer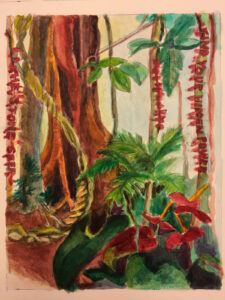 Whoever unites the stones of power in the mascapaicha, the legendary crown of emperors, is destined to rule Zatonia.
But what if a shy girl only wants to use them to save her guardian?
NAIRU LUKANA loves exploring the Zatonian Rainforest. As a gifted young healer she believes every plant and tree has healing potential. When her elderly guardian begins to lose her memory, Nairu tries and fails to find a cure in the forest. Then, she discovers an emerald with the power to revive a dead tree and wonders if the stories of magical gemstones are true. Maybe, if she can find the lost stones of power and unite them in the mascapaicha, she can cure her guardian.
Nairu's quest pits her against EMPEROR AMARU. He's searching for the second stone of the mascapaicha, a ruby rumored to give its bearer the power of SUPAY, god of death. As his soldiers press further into the rainforest, they find Nairu and her sister and the twins discover that Emperor Amaru is really their uncle. Forced to flee, they embark on a perilous journey across Zatonia pursued by the emperor's howler monkey spies.
Nairu seeks help from the wise Andalean Condors, huge winged scavengers led by the condor queen. When a friend of the queen betrays them all, Nairu is imprisoned. She realizes no one is coming to her rescue so she must use her newfound abilities as a stone seer to harness the power of the gemstones and free herself and her friends. With the help of the condor queen, she sets off to find the Supay Ruby. Will she locate it before the emperor does and unite the stones of power to cure her guardian? Or, will Emperor Amaru seize the ruby and use it to bring all of Zatonia under his dominion?
The Stone Seer is a middle grade fantasy complete at 45,000 words.