Welcome lovely readers and writers! You've reached my author website – home of magical gemstones, wise condors, jewel-eyed Andaleans . . . and a few blog posts on the craft of writing, too!
See the latest on my debut novel, The Stone Seer, and follow my blog for help on becoming a focused writer here.
The Stone Seer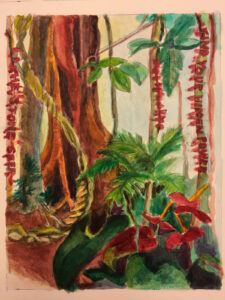 "When the meek find courage, the powerful fall."
Whoever harnesses the power of the Illian ruby will control Zatonia, a fantastic world of talking animals and magical gemstones. Evil Emperor Amaru will stop at nothing to get it. Only his shy, 12-year-old niece, Nairu, has the ability to stop him.
Inspired by a backpacking trip through South America, The Stone Seer layers the varied geography of this continent with magic and explores the theme of sibling love and rivalry.
As Nairu learns to find the magical powers hidden in the Zatonian gemstones, she learns to trust herself. The Stone Seer is a middle grade novel and the first book in a planned series titled 'The Daughters of Zatonia'.